Event
First Lights – Kooranup
A place-responsive, choreographed drone light and sound experience presented by the Fremantle Biennale.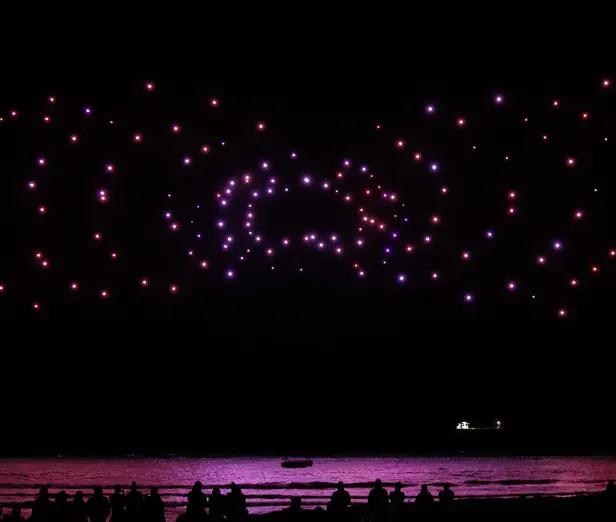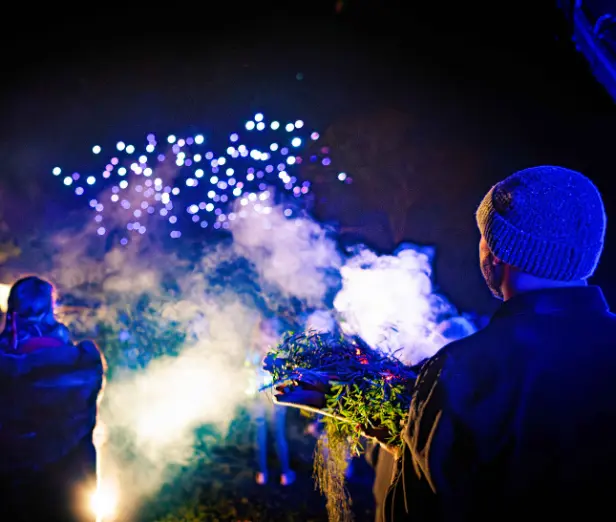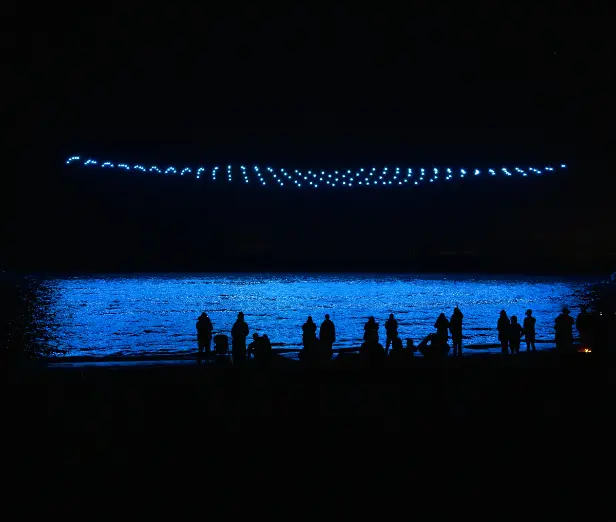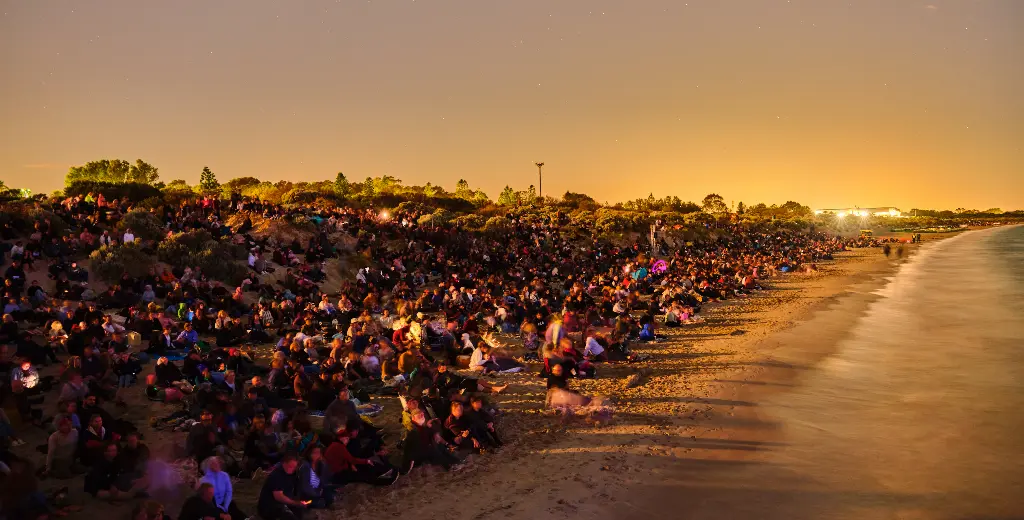 Come, sit by the water, and share in the ancient and living stories of First Lights – Kooranup.
The Fremantle Biennale's acclaimed drone light and sound experience, First Lights, returns in 2023 with Kooranup. This epic spectacle of light, movement and sound will transform the night sky with 160 drones taking flight over wardan (ocean).
Pioneering new technology and artistic practices to share ancient knowledge, Kooranup will reveal the first stories of place across three weekends and three locations in the Perth region. Revealed will be a series of connected stories by artists Yabini Kickett, Cass Lynch, Tyrown Waigana, and Ilona McGuire, guided by Whadjuk Nyoongar Traditional Owners.
The first two performances will take place at Walyalup (Bathers Beach), Dyoondalup (Attadale Reserve), with the last chapter unfolding across the ocean on Wadjemup (Rottnest Island).
This closing event to the Fremantle Biennale offers a space for deep contemplation across land and water, weaving together the many stories across time, both beautiful and heartbreaking, that are held by the island.
This performance is led and guided by the Fremantle Biennale Cultural Advisory Group.
Registrations required
This event is free to attend but due to limited capacity, registrations are essential.
Book your tickets here or visit the Fremantle Biennale website for further information.
Produced and presented by the Fremantle Biennale as part of their 2023 program: SIGNALS 23 and co-presented by Rottnest Island Authority
While every intent is for events to go ahead as planned, in some circumstances they may have to change due to inclement weather or other unforeseen circumstances.
Getting to First Lights - Kooranup is easy with several ferry options available. Dedicated event ferry services will be run by SeaLink Rottnest, Rottnest Express and Rottnest Fast Ferries.
Friday 17 November
Saturday 18 November
Note your ferry travel is not included in your registration and must be booked separately.
To ensure the safety of the public, there will be road closures and an exclusion zone enforced prior to, and during, the show, which will be enforced from 7:20 pm to 8:20 pm on 17 and 18 November.
The exclusion zone applies to all visitors to the island, including guests booked into parts of the Kingstown accommodation area, specifically the Kingstown Dormitories 111-128, Hostel and Cottage 150. The exclusion zone includes the closure of access roads.
See the map here which indicates the exclusion zone.
If you wish to watch the drone show
Visitors and accommodation guests within the impacted area must leave before 7:00 pm, and follow the instructions from authorised personnel, who will direct you to a viewing area.
Tickets are free but due to limited capacity, registrations are essential.
If you choose not to watch the show
If you haven't left the affected parts of the Kingstown area, including accommodation, before 7:00 pm, then you must remain inside from 7:20 pm to 8:20 pm.
When the drone show ends at 8:20 pm, the exclusion zone no longer exists and you can return to your accommodation or venture outside if you stayed indoors. 
We thank you for your understanding and hope to see you at this unique event on Wadjemup.
Where to find First Lights - Kooranup
From the Main Jetty the Army Groyne is a short 10-15 minute walk or 5 minute bike ride along Parker Point Road, turning left at Army Jetty Road.