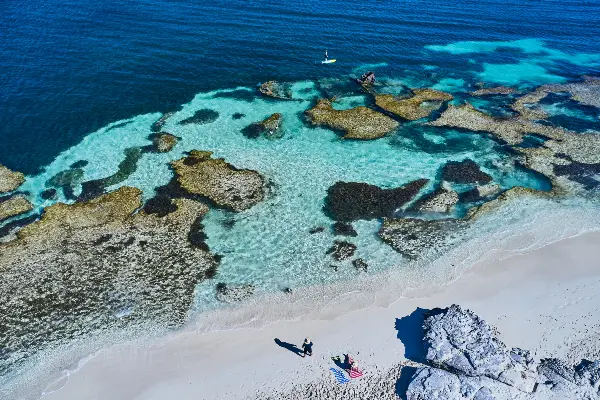 Beaches & Water Activities
The waters that surround the island are often described as glass, crystal… unforgettable
A sea this clear isn't just an invitation to experience island stillness, it allows you to witness life thriving beneath the surface. Curious stingrays play with the motion of gentle waves; schools of tropical fish follow the warm Leeuwin Current; marine gardens grow in the safety of an underwater sanctuary.
With a vast collection of beaches and bays, all connected by the embrace of water, it's easy to find a secluded spot for yourself.
The Indian Ocean that wraps around the shores of the island will offer a tropical current to snorkellers at
Little Salmon Bay
, while playing with swimmers at
The Basin
, and delivering spectacular views for those paused on the boardwalk at West End.
For those
exploring by boat
, the vastness of the sea expands in front of you. Out there, you feel like a small part of something much bigger.
Swim, snorkel, dive, or venture out to deeper seas; however you choose to wander in the waters of Rottnest Island, the experience will stay with you long after you leave the shore.
Tips for a time well spent
Make your visit even more meaningful with helpful advice from those in the know.
View all guides & tips