Tour
Charter 1 Snorkel & Sailing Tours
Climb aboard the iconic yellow sailing catamaran, Capella, for a day of sailing, swimming and snorkelling.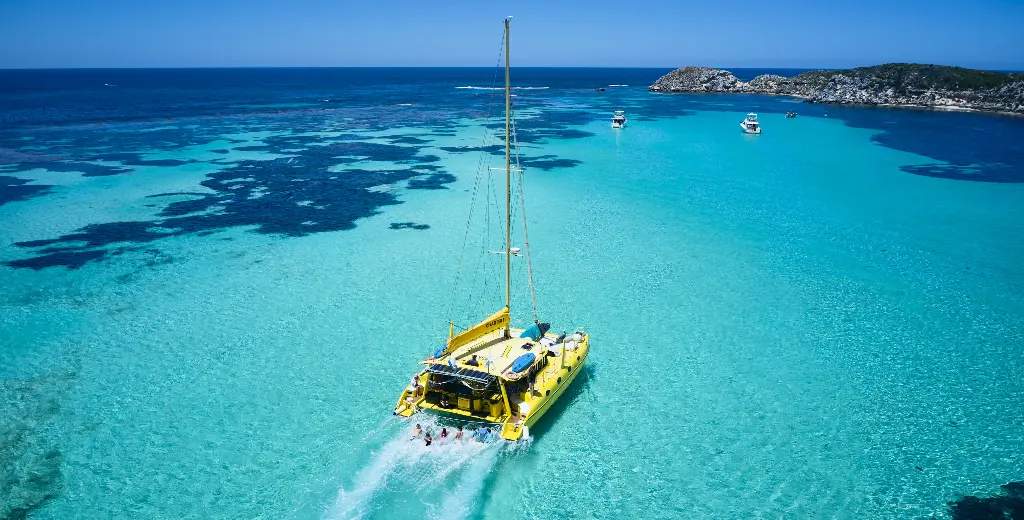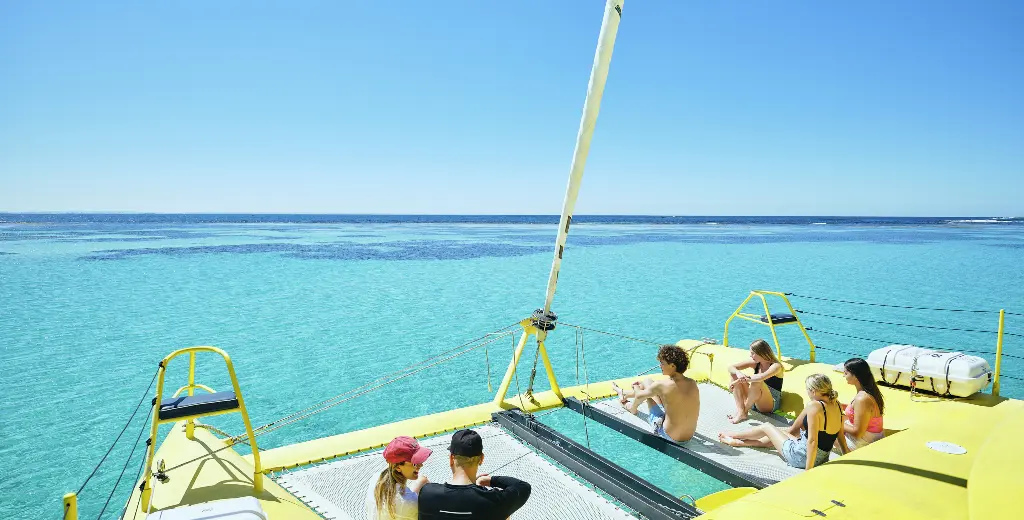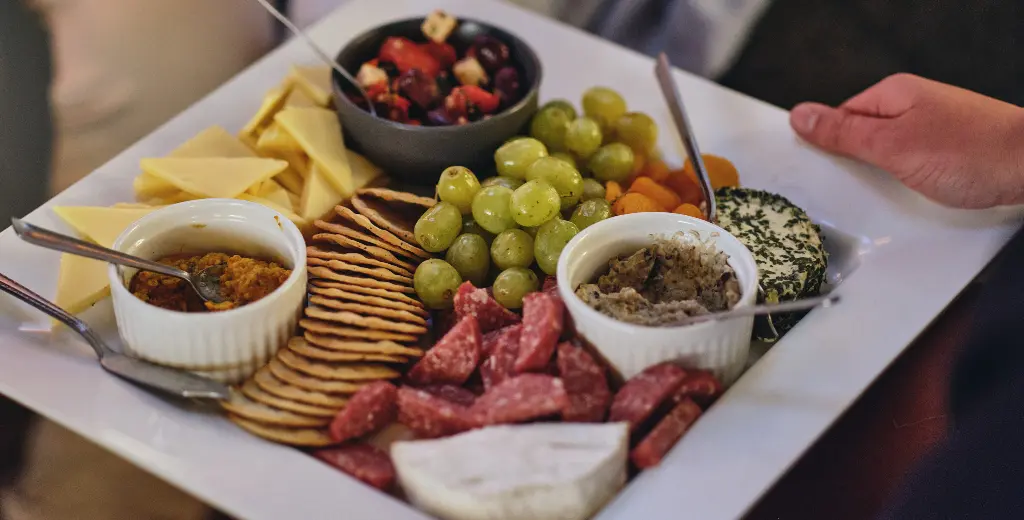 Soak up the sun, interact with local marine life, or simply settle back with a cold drink in hand onboard the Capella, Perth's largest sailing catamaran.
Capella is an icon on Wadjemup / Rottnest Island and impossible to miss. Named after the Capella Star, this 12.5 metre luxury catamaran offers an unmatched experience of the island and all that surrounds it.
Embark on a snorkelling tour to explore what lies beneath the sparkling waters of Wadjemup. Capella comes complete with snorkelling equipment, kayaks and a stand up paddleboard (SUP) to fill your day with action. The catamaran also features a large cargo net in the water to help you stay cool and provide entertainment for all.
Or take a sensational sunset sail, and watch the sun dip slowly below the horizon as you sail along the coastline with a cool drink in hand.
For larger groups, private charters are available all year round for a day of bay-hopping, overnight escapes or corporate events.
Look out for
SUP and kayaks available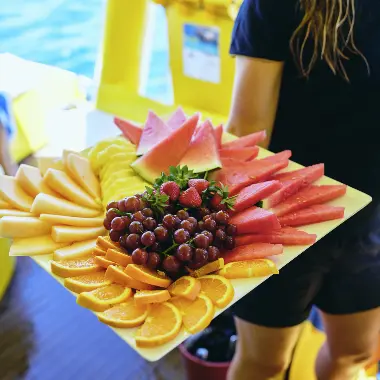 Snacks and refreshments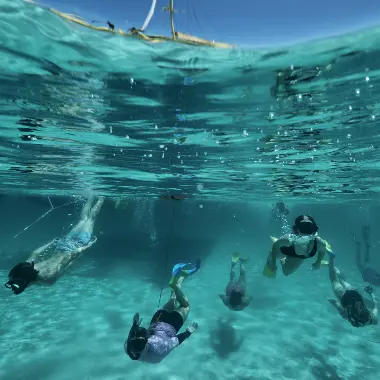 Snorkel the underwater playground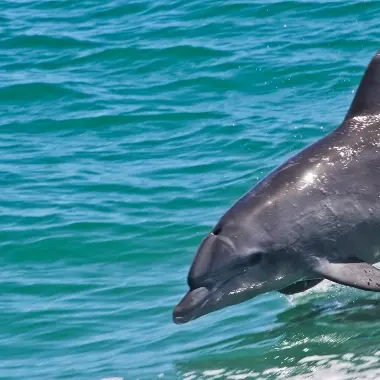 Wildlife encounters
Tours on offer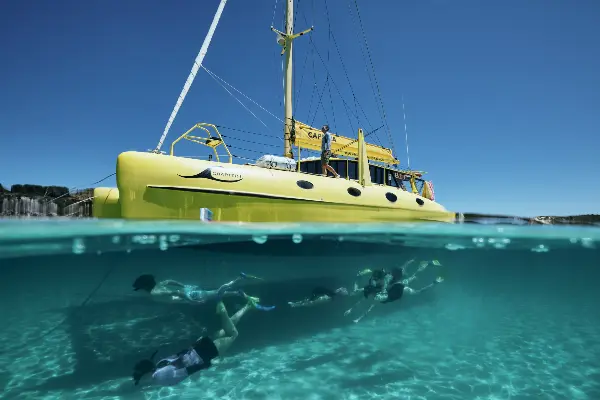 Snorkel & Sail Tour
Enjoy the comfort of a catamaran as you head directly to the island's sought-after snorkel spots. Slip in and float atop the dappled waters, watching the abundance of tropical fish and multi-coloured corals thriving beneath the surface.
This tour departs from the island at the following times:
In November and January to April
Monday, Tuesday, Wednesday at 12:30 pm
Thursday at 9:30 am
Duration: Approximately 3 hours
Tour availability and departure times are subject to weather conditions and minimum numbers.

Check Availability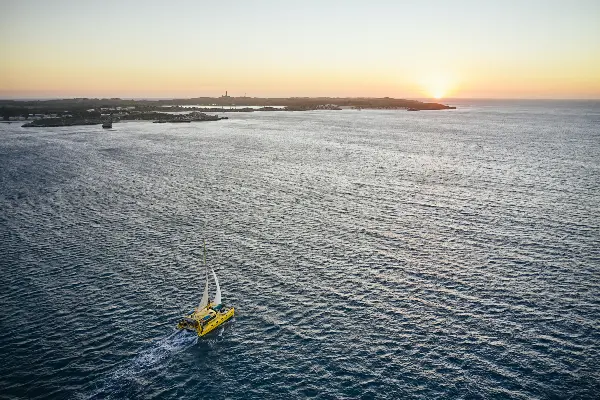 Sunset Sail Tour
Sip on a glass of complimentary sparkling wine and share antipasto with your fellow passengers. As the sails are hoisted, keep an eye out for dolphins at the bow while the yacht catches the wind.
Watch the sun dip below the horizon and cast a golden glow over Bathurst Lighthouse. Relax on deck with a drink in hand or enjoy a refreshing spa in the cargo net on hot balmy nights.
This tour departs:
In November and from January to April
On Monday, Tuesday and Wednesday
An hour before sunset
Duration: 90 minutes
Tour availability and departure times are subject to weather conditions and minimum numbers.
Check Availability
Where to find Charter 1 Snorkel & Sailing Tours
Charter 1 Snorkel & Sailing Tours depart from the Fuel Jetty, close to the main jetty where the ferries arrive.
Frequently Asked Questions
Children are welcome on most tours and private charters, however some age restrictions (or guidelines) may apply.
Please contact Charter 1 directly prior to booking.
Passenger safety and enjoyment is a priority for the Charter 1 team. Prior to your tour, wind and weather conditions are monitored up until the time of departure.
You will be contacted directly by Charter 1 should the conditions be deemed too unsafe or too uncomfortable to sail.
Capella has a fully functioning kitchenette and BBQ (for use when Capella is stationary).
There is also a large central ice box for all drinks.
Capella has one bathroom available during day trips and two when hired for overnight accommodation. Both have a flushing toilet and shower.
There are two additional showers on the stern deck.
Yes, you are most welcome to bring additional food, drinks or alcoholic beverages (beer, wine or pre-mixes only).

Charter 1 is a regulated premises by law and all staff practice responsible serving of alcohol.
Tips for a time well spent
Make your visit even more meaningful with helpful advice from those in the know.
View all guides & tips