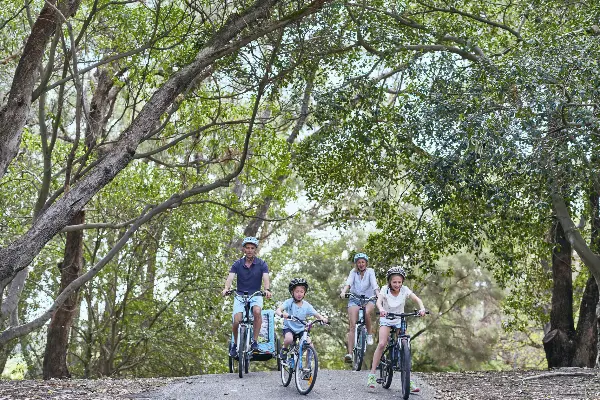 Explore Wadjemup at your own pace
Over 22 km of cycle paths weave in and out across the island, with plenty of track for every ability.
The Rotto Mini Loop is a four kilometre round trip that winds its way past some of the island's favourite locations. Starting at Thomson Bay, cyclists of all ages can ride through the unique Wadjemup bushland to The Basin, past Longreach and Geordie Bay, and out to Vlamingh Lookout. At around 30 minutes to complete, it's perfect for families looking to explore more of the island.
The Beaches, Lighthouses, and Lakes trail takes you further into the unique island terrain, without being too arduous. At 10 km, it makes for a relaxed 1.5- to 3-hour ride around the coast and inland, taking in some of Wadjemup's most beautiful beaches and bays.
The 22 km Island Ride takes you around the entirety of Wadjemup's stunning coastline. You'll cycle the entire island, taking in some of its most popular beaches and stunning scenery. But at anywhere from three to five hours (return trip), this is better suited to experienced riders.